Beretta 92Fs, also called Beretta 93Rs, are handguns used by Selene and other characters in the Underworld series. They are full auto and have 25 to 30 rounds each. The Berettas have been modified to fire full-auto, and contain barrel weights.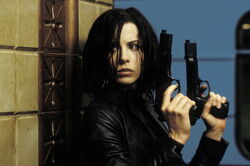 The Berettas are one of the first guns seen in Underworld, and are used by Selene during a shootout at a subway station before switching to a pair of Walther P99s. She later wields these same guns to shoot a hole through the floor at an apartment complex to escape attacking Lycans, as well as in scenes in which she shoots Lucian, holds Michael Corvin hostage and when she begins an intense gun battle with Lycans at a Vampire safe house.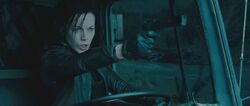 In the sequel to Underworld, the Berettas are again a favorite weapon of Selene. However, unlike the first film, the Berettas are not seen after the film's halfway point. Selene starts out the film with Berettas holstered on her hips, which she draws when she hears Michael being attacked. She later drops one of the Berettas, and Michael is able to use it on Marcus Corvinus when he tries to bite her and drink her blood. The weapon is then given back to Selene, who fires on Marcus as he chases her. Upon emptying the weapon, it is left in the truck Selene is driving and is not seen again.
Another Beretta is seen in Andreas Tanis's lair, attached to the wall near his collection of Ultraviolet ammunition.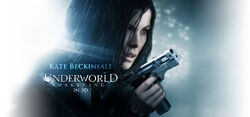 The Berettas return as Selene's favoured weapon in the fourth installment, Underworld: Awakening. This time she wields twin Modified Beretta 92FS Inox, which are her primary weapons throughout the film. She uses the weapons when fighting Lycans in Thomas's Coven, and again when she attacks Antigen Headquarters. Like the regular Beretta 92Fs, the Beretta 92FS Inoxes are fully automatic.
As in the other films in the series, Selene's primary weapons are a pair of Beretta 92FS pistols. She is seen wielding 92FS Inox pistols, as well as a black Beretta 92FS like the ones she used in the first film.
Trivia
The Berettas are so instrumental in Selene's arsenal that they appear on the posters for both Underworld and Underworld: Awakening.
Gallery
External links