Crossbows are projectile weapons used in the Underworld series. Vampires would load crossbows with silver bolts in the days before the invention of silver bullets to exploit the extreme allergy to silver possessed by Werewolves and Lycans.
Underworld: Evolution
The Vampire Elder Amelia is seen using a crossbow in a flashback in Underworld: Evolution. When the Vampires arrive at a mountainside village, they discover that the original Werewolf William Corvinus already killed all of the village's citizens. Before the Vampires can destroy the bodies, the villagers begin to rise from the dead as Werewolves. Amelia uses a crossbow, as well as a silver sword, to fight the Werewolves in the village.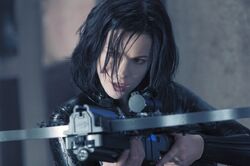 When William is found in the forest just outside of the village, several Death Dealers use silver crossbows to chain down the beast, shooting spikes through his arms and legs. Despite the intervention of William's twin brother, Marcus, the Werewolf is brought down by the strength of the Death Dealers pulling on the silver chains.
Another crossbow is seen in Andreas Tanis's lair, which is wielded by Selene in an effort to scare Tanis into giving her information.
Underworld: Rise of the Lycans
Viktor uses a crossbow to kill Lucian's Mother and almost uses in the infant, but ultimately decided to spare him.
Viktor shoots a crossbow bolt at a young Lucian, who catches it before it can harm him.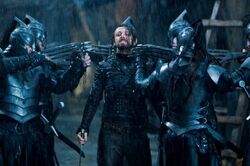 Lucian uses a crossbow to shoot at two oncoming Werewolves that are chasing Sonja.
When Lucian attempts to escape a third time after having witness Sonja's death, Death Dealers shoots several bolts at the Lycan in his wolf form, which they manage to wound and stop him from escaping. Death Dealer captain Sandor shoots at Lucian with a crossbow when the Lycan tries to attack Viktor, but Lucian catches all his bolts and promptly kills him.
Underworld: Blood Wars
During Marius's attack at the Nordic Coven, several Nordic Vampires are seemly using crossbows.
Gallery