Jázmin Dammak is a Hungarian model and actress. In 1999, Dammak won the Miss Hungary pageant, before winning the Miss Universe Hungary pageant in 2008. She then placed 12th in the Miss Universe pageant.
Dammak played the Vampire princess Sonja in Underworld in 2003. In 2013, she played Molnár Angelika in the Hungarian film, Indián.
Underworld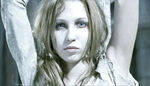 Dammak was hired to appear in Underworld at the last second, and did not share any physical similarities with the character the creators were looking for. Despite this, she was hired anyway, and was asked to dye her hair black for the role. She refused unless they agreed to pay her more money, but the creators declined to do so, using her blonde image in the film. This was built upon in the non-canon novel Blood Enemy, in which Sonja is depicted as being blonde. In the 2009 prequel, Underworld: Rise of the Lycans, which featured Sonja in a leading role, brunette actress Rhona Mitra was cast in the part.
External links