Kevin Grevioux is an American actor and writer, born in Chicago, Illinois.
Background
Grevioux earned a degree in microbiology at Howard University, which he later put to use in making the Underworld series. His first film role was an uncredited appearance as a guard in the 1994 film, Stargate. That same year, he played another uncredited guard in Naked Gun 33⅓: The Final Insult. He is most often cast as a thug, police officer or guard, including in Batman Forever, Congo, Charlie's Angels and Malcolm in the Middle. Grevioux most recently wrote the screenplay for I, Frankenstein, starring Bill Nighy and Aaron Eckhart.
In 2006, Grevioux created two comic imprints, Astounding Studios and DarkStorm Studios. He has written several comic books, featuring his own original ideas.
Underworld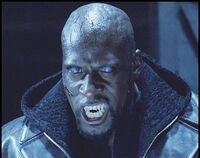 Grevioux co-wrote Underworld and Underworld: Rise of the Lycans with Len Wiseman and Danny McBride. Grevioux based the original film off of the racial tensions that tend to manifest in interracial relationships, creating a film that was dubbed as "Romeo and Juliet for Vampires and Werewolves". He used his background in microbiology to give the Immortal species of the series biological origins, as compared to supernatural ones. He also wrote comic book adaptations to each of the films.
Besides just writing the series, Grevioux also appeared in Underworld and Underworld: Rise of the Lycans as Raze, a powerful Lycan who is described on the official site as "250 pounds of pure terror". Contrary to popular belief, Grevioux did not alter his voice for the role of Raze, who has an unnaturally deep voice.
Trivia
Grevioux's latest film, I, Frankenstein, stars Bill Nighy, who appeared in the Underworld series as Vampire Elder Viktor.
External links