The Subway Station is a location seen in Underworld and briefly in Underworld: Evolution. According to the Underworld novelization, it is only a few blocks from Michael Corvin's apartment. The subway also connects to the lair of Lycans led by Lucian.
Underworld
Late for work, Michael Corvin heads down to the subway station to catch a train to Saint Istvan Hospital. Two Lycans follow him into the station, hoping to kidnap him and test his blood for traces of the Corvinus Strain. Unknown to the Lycans, they are being stalked by three Vampire Death Dealers. One of the Lycans, Raze, senses the presence of the Vampires, and begins a fierce gun battle, firing ultraviolet bullets at them. His barrage of gunfire quickly kills Rigel, one of the Death Dealers.
The other two Vampires, Selene and Nathaniel, shoot back, and both Raze and the other Lycan, Trix, are forced to flee deeper into the subway. Once out of the sight of any humans, Raze and Nathaniel shift into their Werewolf and Vampire forms, and begin to fight, leading to Nathaniel's quick death. Selene chases Trix, and eventually is able to kill him by unloading a clip of silver bullets into his chest.
Raze then rushes towards Selene, who flees from him. Selene eventually finds herself in an abandoned area of the subway, where she hears the howls of dozens of Lycans. Realizing she has stumbled onto a Lycan den, she races back to the Vampire mansion to tell her superiors what she has discovered.
Underworld: Evolution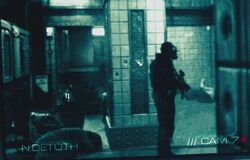 After all Vampires and Lycans have already departed the scene, a team of men working under the orders of Alexander Corvinus collect and dispose of the dead bodies of Rigel and Nathaniel. They take video of their cleanup, which they then show to Alexander.
Trivia