Underworld: Awakening is an American film released on January 20, 2012. It is the fourth installment in the Underworld film series, and is the sequel to Underworld and Underworld: Evolution.
Plot
Six months after the events of the second film[1], the Vampire Selene is captured by humans during the Purge, a mass extermination of Vampires and Lycans after mankind learns of their existence.

Twelve years later, Selene is freed from cryogenic suspension and escapes the headquarters of medical corporation Antigen, which claims to be trying to make an antidote for the virus that creates Vampires and Lycans.
Selene starts to have strange visions after her escape, which she follows, believing the visions are linked to her lover, the Lycan-Vampire Hybrid Michael Corvin. The visions lead her into a building where she meets David, a fellow Vampire. While talking to David, Selene has another vision, which leads her to a young girl named Eve, later revealed to be a Hybrid and Selene's daughter. David takes them to his Coven.
David's father, Thomas, does not welcome Selene and Eve, claiming Michael died twelve years ago and Selene is the cause for the destruction of the Vampire clan. Dr. Jacob Lane, director of Antigen, is revealed to be a Lycan alongside his son Quint, with the antidote actually being designed to make Lycans immune to the deadly effects of silver. However, Eve's Hybrid genetic code is required to achieve this, so Lane sends Quint with other Lycans to the Vampire Coven. Numerous Vampires are slaughtered, and Selene meets Quint, who transforms into a gigantic "super Lycan", his body changed by injections using Eve's blood. Selene is defeated, Eve is captured by the Lycans, and David is mortally wounded during the battle. Selene decides to save Eve, but revives David using her immortal blood, given to her by Alexander Corvinus in Underworld: Evolution.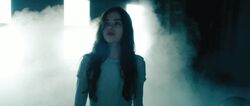 Able to survive in sunlight, Selene enlists the help of Detective Sebastian, a human who tried to investigate Antigen earlier in the film. Sebastian agrees to help save Eve, admitting he was married to a Vampire until she committed suicide during the Purge. Selene destroys part of Antigen's headquarters using explosives, forcing Dr. Lane to move Eve out of the building to perform an operation to create the antidote. Selene finds Michael cryogenically frozen in a laboratory, and damages his cell, allowing him to escape. Escaping in a van, Dr. Lane is intercepted by Detective Sebastian and Selene who causes the van to crash. Quint arrives, transforming into his super Lycan form, and fights Selene.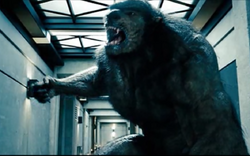 Eve frees herself from the van and engages Dr. Lane in a fight, who has injected himself with the super Lycan formula used on Quint. Detective Sebastian and the revived David aid Eve in her fight until she kills Dr. Lane by ripping his throat out. Quint corners Selene but is forced to revert to his human form when she hides in a small chamber, only for Selene to shove an activated silver-based grenade into his body, causing him to explode.
Selene goes to find Michael but learns he has already escaped. Selene, Eve and David run to the roof, only to find Michael gone. Selene concludes she will find Michael, and take back the world from the humans and Lycans so that the Vampires can rebuild themselves.
Cast
Narrations
Beginning of the film: "The Vampire and Lycan clans had been at war for centuries before I was born. Their endless conflict hidden from the human world. I was turned by a Vampire... and given the strength to avenge my family against the Lycans. And I was good at it. Then I found Michael Corvin. A human that was turned to neither Vampire nor Lycan, but a Hybrid of the two and everything changed. Allies turned enemies and the Vampire Elders I had protected for over six centuries wanted me dead. We retaliated, killed the Elders and for a brief moment of time, we were safe. But then... a new darkness arose. The Purge. Human beings no longer kill each other. We are the enemy that they have been waiting for. Escape has become our only chance of survival. Therefore Michael and I are leaving, tonight."
End: "Though the world has changed, our enemy remains the same. The Lycans will rebuild and will hunt for her father as they did for her. But as they grow stronger, so will we. The Vampire Coven will not only survive this world, we will reclaim it."
Production
Production of the film began in March 2011 in Vancouver, B.C. with Tom Rosenberg, Gary Lucchesi, and Len Wiseman producing. Awakening was one of the first films released that was shot in 3D exclusively with Red Digital Cinema Camera Company's new "Epic" line of cameras.
Reception
Underworld: Awakening received mostly negative reviews, with review aggregate website Rotten Tomatoes giving the film a "rotten" rating of 26%, with a consensus stating "There's more vapid action and less story in Underworld Awakening than previous installments, making the whole affair feel inconsequential". Almost all reviewers, including those who positively reviewed the film, agreed that the storyline was non-existent and characters were flat. Tom Russo of the Boston Globe wrote that Awakening is "The most generic entry of the bunch"[2], while James Luxford of The National said, "If you are looking for an intelligent movie you may need to look elsewhere."[3] David Hiltbrand of the Philadelphia Enquirer also slammed the movie, saying "There's not much to this movie beyond a slick procession of dark, gleaming violence."[4] Andy Webster of the New York Times gave the film a positive review, noting "The combat quotient, to the movie's credit, is way up, with narrative folderol kept to a minimum."[5] Positive reviews almost universally noted Kate Beckinsale's sex appeal as being the most attractive component of Awakening.
Soundtrack
Main article: Underworld: Awakening Original Motion Picture Soundtrack
The Underworld: Awakening soundtrack was released by Lakeshore Records on January 17, 2012, with most of the songs on the soundtrack being rare remixes by Danny Lohner. Among others featured in the soundtrack are the bands Evanescence, Linkin Park, The Cure, and Lacuna Coil.

Score
Main article: Underworld: Awakening Original Score
The Underworld: Awakening Original Score is a musical soundtrack released on February 14, 2012, containing music from Underworld: Awakening. It was composed by Paul Haslinger, who also composed the scores for Underworld and Underworld: Rise of the Lycans.
Quotes
This film has a quotes category.
Trivia
This film is the only installment in the Underworld series that does not center around a romance.
Underworld Awakening is the highest-grossing film in the Underworld series, domestically and worldwide, though this is largely due to the film being released only in 3D, thereby commanding a higher ticket price than previous installments.
It is the first Underworld film to be shot in 3D; and one of the first movies shot using RED EPIC digital cameras.
Jalmari Helander was offered a chance to direct.
India Eisley's character is referred to throughout the movie as "Subject 2", but credited as "Eve".
Underworld: Awakening was not screened in advanced for critics.
Scott Speedman confirmed in an interview that he would not be reprising his role as Michael Corvin for this film. Instead, a stand-in with Speedman's facial likeness superimposed via CGI portrayed his character from a distance at the beginning of the film, and when he is found cryogenically frozen by Selene in the film's finale. Producer Richard Wright has stated that "the idea is that he would come back in the fifth one".
Originally, Awakening was titled Underworld: New Dawn, and featured several differences from the plot as seen in the final release. In New Dawn, Eve was named "Nissa", and her age was 14, rather than 11. Antigen was instead titled "BioCom", and the amount of time Selene had spent in a coma was 15 years, as compared to the 12 year time period mentioned in Awakening. The plot details were changed so close to the start of production that early interviews with the film's creators still included the old information.[6] Curiously, the film's creators again confuse the old plot details in the film's DVD and Blu-Ray bonus features, mixing up Selene's time in a coma with that of the discarded timeline of New Dawn.
The first Underworld film not to feature Bill Nighy, Micheal Sheen or Brian Steele.
The film was released on the same day as Underworld: Evolution six years earlier.
Selene kills a total of 70 people/Lycans making this her highest in the series.
See also
References
External links
Videos
For a complete list of videos from Underworld: Awakening, please visit the Awakening videos category.
Trailers and clips
Extras
Gallery
For a complete list of images from Underworld: Awakening, please visit the Awakening images category.
Community content is available under
CC-BY-SA
unless otherwise noted.