Vampire Safe Houses are buildings scattered randomly throughout Hungary where Vampires can go to either hide from the sunlight, perform research experiments, or to torture captured Lycans for information. One such Safe House is shown to be hidden in the woods, while another is in an abandoned building in the city of Budapest. A network of computers connect all the Safe Houses to one another, and motion sensors make used Safe Houses appear under an 'Active' status should they ever be occupied. The Safe Houses contain large amounts of weapons and ammunition, as well as sophisticated computers that count down the time until dawn, among other things.
History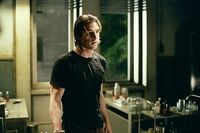 Selene uses different Safe Houses to hide Michael Corvin during the events of Underworld and Underworld: Evolution. In one such safe house, they encountered a dead Lycan whose body had been treated with Thasarine to preserve it in its werewolf form. Marcus Corvinus is able to use Singe's blood memories to locate the first of these and then use the computer system there to find the safe house Selene had retreated to. This second safe house was destroyed by the Cleaners who later reported to Alexander Corvinus that Selene had stripped it of all of its supplies and left her used weapons behind.
After the destruction of Antigen Headquarters in Underworld: Awakening, David tells Selene that there's a safe house not far away that they can go to in order to escape the arriving police.
In Underworld: Blood Wars, Selene takes David to one of the few remaining safe houses left to treat his injuries. While there, Death Dealers led by Alexia arrive to extend an offer to Selene from the Vampire Council. With Lycan forces closing in due to Gregor dropping on a tracking device on David, Selene agrees and they flee the safe house moments before the Lycans arrive.
Gallery
Main article: Vampire Safe Houses/Gallery