The Walther P99 is a semi-automatic weapon used in the Underworld series. Selene wields these weapons in Underworld and Underworld: Evolution, firing two guns at one time, one in each hand. The Walthers appear to act as backups for the Beretta 92FS. Along with the Berettas, the Walthers can be considered to be one of Selene's main weapons in the series.
Underworld
In Underworld, Selene uses a pair of two tone Walther P99s fitted with Kemmer Tech BA-5 laser sights at the bottom of the barrels. The guns have been modified to lessen the weight required on the trigger, allowing Selene to fire them almost as if they were fully automatic.
Underworld: Evolution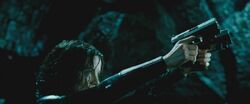 Selene once again uses a pair of two-tone Walther P99s fitted with the Walther Laser Modules as her secondary sidearms. She acquires them from Andreas Tanis's arsenal when she goes to his lair. Although they are the same configuration as the guns used in the first Underworld, these are a different set of pistols.
Selene also uses a standard black P99 when she fights Marcus Corvinus at the pier where Alexander Corvinus's ship is docked, after she takes it from the body of a dead Cleaner.