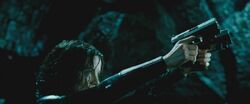 Throughout the events of Underworld: Evolution, several characters are seen wielding various types of weapons. These weapons include both firearms and melee weapons, including explosives.
The Internet Movie Firearms Database has a comprehensive listing of the firearms used in the film, with screenshots. Rather than duplicate their efforts, this page lists some of the main firearms used. For more details, visit the IMFDb page.
Pistols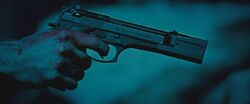 Submachine guns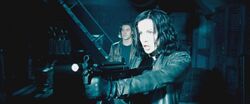 Rifles
Shotguns
Selene unloads a Remington 870 into Marcus at point-blank range in William's prison, briefly slowing him down.
Other weapons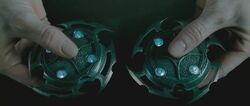 Selene throws a pair of explosive shurikens at William in his prison, but one of them misses and they other only nicks his leg. They get embedded in the ceiling of the prison and explode, causing part of the roof to collapse.
Alexander Tanis was supplying ultraviolet ammunition to the Lycans in exchange for Werewolf bodyguards and other provisions in his monastery. The Cleaners also carried ultraviolet ammunition.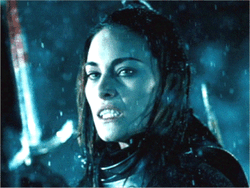 See also
External links