Whips are weapons seen throughout the Underworld series. They are weapons used by Vampires against the Lycans and are oftentimes, though not always, studded with silver.
Underworld
Vampire guard Soren uses silver whips as his primary melee weapon in Underworld, both in modern day scenes as well as flashbacks. He keeps the whips rolled up around his shoulders at most times, but removes them when he is threatened by Raze in the Lycan den. Despite the powerful effect silver normally has on Lycans, the whips are ineffective at stopping Raze's charge, and Soren is quickly killed when one of the whips becomes stuck underneath a piece of rubble.
Soren is also seen using his silver whips in the flashback, in which he whips Lucian as punishment for carrying on an affair with the Vampire princess Sonja. Soren whips Lucian until the Vampire Elder Viktor orders him to stop, at which point Soren and all other Vampires depart the room, leaving Sonja to be burned alive in the sunlight streaming through an opening in the ceiling.
Underworld: Rise of the Lycans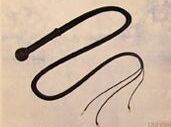 Whips are seen again in Underworld: Rise of the Lycans, used here as tools to keep the Lycan slaves in line. Vampires are seen throughout the film carrying whips with them, whipping any Lycans that become too tired or stop performing duties for the Coven. When Lucian breaks free of his moon collar to save Sonja from a herd of wild Werewolves, Viktor orders Vampire overseer Kosta to have Lucian whipped and then executed. In the novelization, the whip is described as being a silver-studded cat o' nine tails.
After Lucian's escape and subsequent recapture, he is shackled to the floor of Castle Corvinus and is whipped by Soren as Sonja is forced to watch.
Underworld: Awakening
A single silver whip is seen briefly in Underworld: Awakening. After the purges, the Vampire survivors of the Western Coven managed to save some of the late Death Dealers' arsenal and storage at their armoury as a remainder to their past as proud and fierce warriors. A silver whip was kept by Thomas at his Coven and during the invasion of Antigen's Lycans, David uses the whip, in the attempt of defend his Coven from their vicious attack.
Gallery